| | | | |
| --- | --- | --- | --- |
| Effectiveness | Price | Ease of Use | Support |
| | | | |
| Makes very high quality professional looking eCovers | Not the cheapest option but well worth the cost | Well designed, intuitive and quick to learn | Responsive support but with limited hours |
I LIKE

I DON'T LIKE

| | |
| --- | --- |
| | Very powerful eCover creation software |
| | Easy to learn, intuitive to use |
| | Beautiful covers created in minutes |
| | Loaded with templates, images, icons and fonts |

| | |
| --- | --- |
| | Some occasional slowdown |
| | Too few UI color options |
| | 50MB own image storage a little low |
| | |
SUMMARY: A worthy successor to the original Pixel Studio FX. Version 2.0 adds many useful new features and refines the digital cover creation process further, making it even more streamlined and powerful.

While still not perfect and not the cheapest option, Pixel Studio FX 2.0 is the standard against which all other eCover creation software should be measured. Read on for my full review.

A year ago, I made a decision to invest in the first version of Pixel Studio FX, a tool for creating digital covers built by well know internet marketer
Jimmy Kim
. I primarily make money as a consultant of sorts, helping others put their digital products together. Part of what I do includes taking care of the eCovers, and purchasing this software was my step towards solving that age old problem of spending a fair amount of money on digital cover outsourcing for work that I was never ultimately happy with.
Perception is everything, and whether you're working on or involved with making an eBook, info product or software, a good eCover will convey a feeling of quality. If the first thing a potential buyer sees is sloppy packaging, they are much more likely to dismiss the product and move on. This has been proven time and time again. If the product's creator didn't appear to put much effort into the packaging, how likely is it they put any more effort into the product itself?
This is exactly why companies like Apple, who I think we can all agree know what they're doing, spend millions of dollars a year on packaging design (to be exact, Apple spent 11.6 million). So, whether we're hard at work on our digital products, or helping others put them together (as is my case), the importance of a good cover cannot be underestimated.
My Worries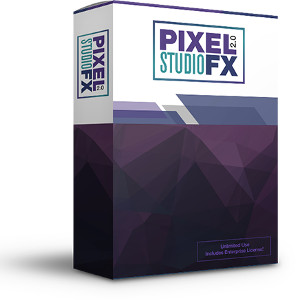 As I touched on in my now outdated version 1.0 Pixel Studio FX review, my investment in the tool worked out beautifully. Creating eCovers became something I no longer needed to worry or stress out about. We all experience plenty of pressure, and I was more than glad to offload some it. In fact, the software worked out so well it allowed me to expand my offering, and I myself became an outsourcer for others seeking nothing but digital cover work. I didn't even consider that possibility when I was making the software purchase, but it turned out to be a nice addition to my bottom line.
So, obviously being a fan, when version 2.0 was announced I got excited about the prospect of new features and some bug fixes coming online. On the flip side, I was also a little anxious. Version 1.0 was working well for me just as it was, and in my experience, not every software upgrade is an improvement over the last (I'm looking at you Adobe). The first Pixel Studio FX was truly a software for everyone, both digital product creators, and outsources. I was really hoping version 2 would live up to that as well.
As soon as I was able to get access to the new version, I pounced on it. I spent time exploring the added features and wrapping my head around some of the more subtle improvements that have been made. On a bit of a side note (just so that you can see what's possible), here are a few eBook cover examples that I quickly put together as I was testing things out and making notes for this review. Now if only I could actually write books, with covers like these, Grace Hamilton would surely be on the New York Times best sellers list!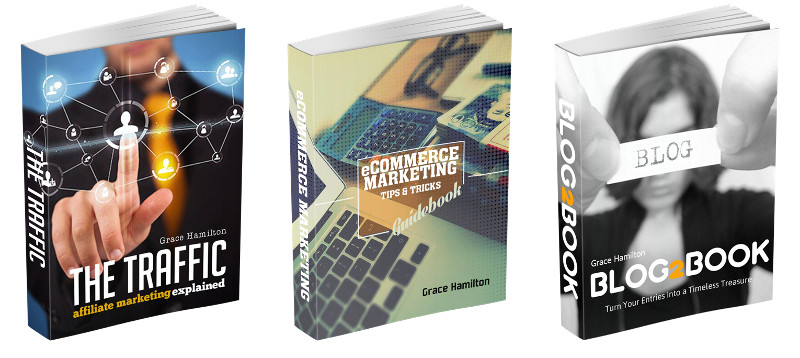 The Workflow
So what does the process of creating a digital cover in Pixel Studio FX 2.0 look like? The overall workflow remains pretty much the same as it was the previous version, though to me it now feels much more streamlined. It's basically a natural evolution from version 1.0, and that's a very good thing.
When we first log in, the left side of the main screen lists two dozen niches to choose from. These include everything from Business & Investing, and Business & Marketing, to Travel, and Health & Fitness. All the major niches are there. Selecting one will show a list of niche specific cover templates to pick from. Each one of these is a starting point for potentially limitless customization, depending on how far we want to take things. There are over 220 of these templates, and they all look solid.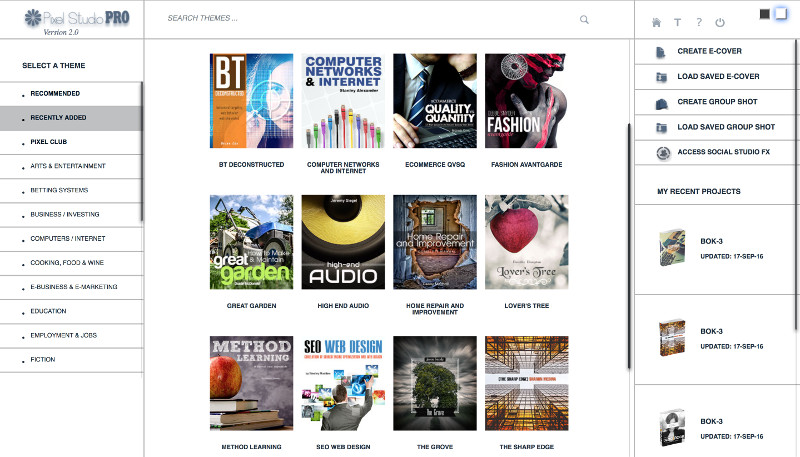 Once a cover template is chosen, we then see it overlaid on top of all the different 3D models supported by Pixel Studio FX. This gives us a very good idea of what the end product is going to look like right off the get go. The models include things like software boxes, magazine covers, spiral bound covers, DVDs, Blu-rays, as well as the cover shown on an iPhone, iPad, Kindle, etc. In total, there are 32 models to choose from.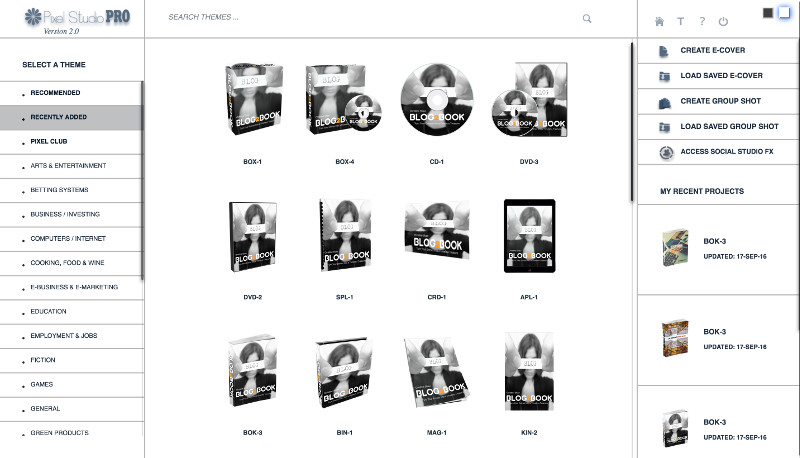 With the model picked, it is time for customization. We can make a just a few changes here and there, or completely tear the template apart. It is up to us. The Pixel Studio FX interface for customization is very clean. No dozens of buttons and Photoshop like overwhelm here. Any object on the cover, be it text or image can be added, removed, moved, rotated or scaled using drag and drop functionality. The software comes with a vast library containing thousands of stock images and web icons. We can also upload our own images as the software gives us 50MB of storage exactly for that purpose. The font and color of any text can also be arbitrarily selected. It is all very very simple, clean and easy. Just how it should be.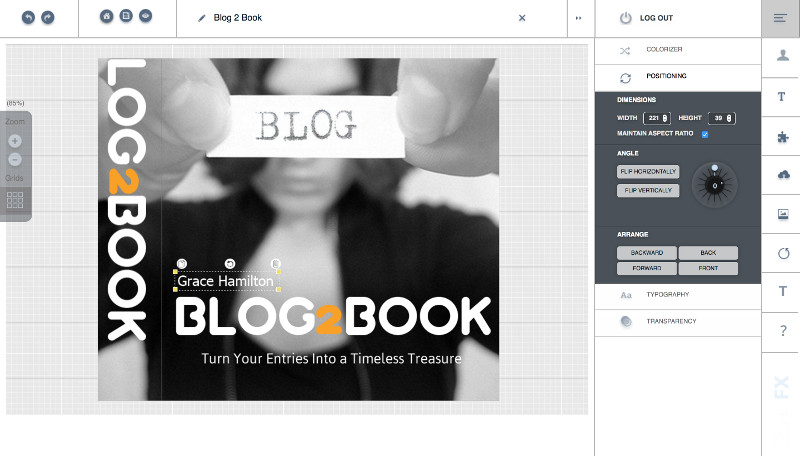 At any time during customization, the final cover can be viewed with a single button click. This shows the modified template on top of our previously selected 3D cover model. The preview screen allows us to change the cover's background color or image, add a watermark, as well as add shadows or reflections. Once we are happy with the results, this is also where the cover can be downloaded (with the background or without) to one of the four supported file formats (PNG, JPG, PDF, and TIFF). The download package for each file format includes three sizes, whose resolution is roughly 850×1100, 510×660 and 255×300 (the actual size will depend on the 3D model that was selected). All three sizes have 96 pixels per inch.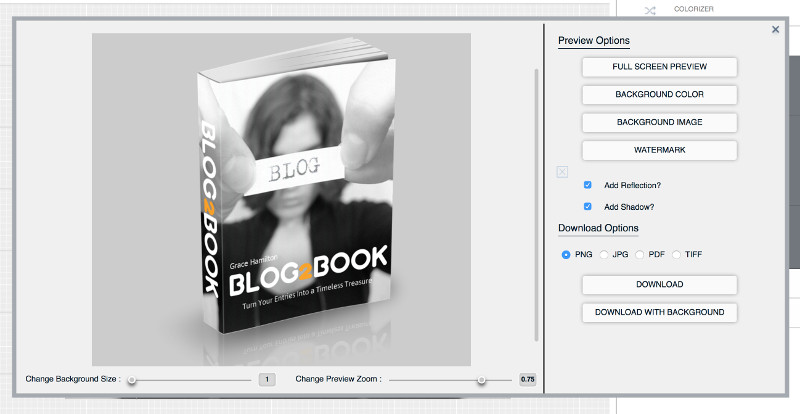 At this point, pretty much all that remains is to pat ourselves on the back for a job well done. We have created yet another awesome looking eCover and, from start to finish, the process took a just a few minutes. This is how intuitive and easy to use Pixel Studio FX 2.0 is.
If you haven't yet seen it, I would also suggest you at least skim over the video below. Jimmy put it together and gives his overview of Pixel Studio FX 2.0 by walking through the process of creating a single cover. It never hurts to get another point of view. After watching the video, I think it also becomes very clear that once you are proficient with the software (which in my experience happens rather quickly), creating an eCover design can very realistically take less than 5 minutes.

Features
As expected, Pixel Studio FX 2.0 comes with several new features. There is about two dozen in total, and I welcome them all with open arms. Some favorites that I immediately took a liking to include:
A new image and object transparency slider to adjust opacity.
Keyboard shortcuts. Once you learn these, the speed with which you can make covers will reach a whole new level.
Grids and snapping. Makes aligning images and objects oh so much easier.
Stock account integration allowing us to connect our own stock accounts for images, eliminating a few steps and saving time along the way.
Light and dark interface options.
More file formats covers can be exported to (PDF, JPG, and TIF have been added).
This is of course in addition to all the other features that have been there since version 1.0:
The software runs in the cloud, so it works on PC, Mac, or any other operating system.
It is built from the ground up with a single purpose in mind.
The tool has easy to use drag and drop, point and click interface.
No technical skill, coding or graphic editing are required.
We get unlimited personal use to create as many covers as we want.
50 MB of storage for our own images, icons, etc.
There are detailed step by step training videos. These have been updated for version 2.0 and feel much more detailed.
220+ done eCover templates in a dozen niches that can be used as starting point for our digital cover (or we can always start from scratch).
14000+ images and icons (8000 images and 6000 Web icons) to be used in our designs.
180+ web fonts.
32 3D models, including software boxes, DVDs, books, reports, magazines, hardcover books and more.
On The Down Side
No software is perfect, and my Pixel Studio FX 2.0 review would not be complete without touching on what I'm not so hot on. Being cloud based, I did see some slowdown from time to time, presumably due to heavy usage by other users. I must, however, note that the slowdowns were a lot less noticeable than in version 1.0, so some definitive improvements have been made.
I personally find the 50MB of storage we get for our own images a little on the low side. Not a deal breaker (old files can always be removed), but I would like to see a bit more space to keep all files in one place.
I also wish the software came with a gray interface option. I like the newly added white interface more than the original black (which can still be used), but I do find that over time both strain my eyes, and suspect a gray option would work best.
The last thing I feel could use some improvement are support hours, which are Monday to Friday 9 AM to 5 PM PST. I have not found this to be an issue personally, but it is something to be aware of. All that being said, for how much good there is in Pixel Studio FX 2.0, I have an easy time forgiving these shortcomings.
The Price
For a limited time, Pixel Studio FX 2.0 is being offered as a one-time $67 purchase, before eventually going back to a monthly subscription model. For the value the package offers, that's a steal of a deal, especially if you expect to be putting together at least a couple of digital covers. The software will pay for itself.
If Pixel Studio FX 2.0 does not sound like what you're looking for or is more than you're looking to spend (which is perfectly fine, everyone has a budget), there are a couple of alternatives I can recommend you look at. One is another eCover software solution called MyEcoverMaker maker. I have used it before and find it nowhere near as powerful as Pixel Studio FX. But, it is cheaper and depending on your needs, may be sufficient.
My other suggestion is to outsource on the cheap with a lower cost service like Fiverr. These days, you can't realistically expect to get anything good for $5 (despite the site's name), but I have had some success getting good digital covers (and other outsourcing like writing) off the site in the $20 range. If you choose to go this way, use the coupon code AFX20 to get 20% off. Every dollar counts.
In The End

I am glad to say that I can put to rest my anxiousness about Pixel Studio FX 2.0. It is a worthy successor to software I was a big fan of. I am happy to see that its creator Jimmy decided to take the evolution and not revolution approach, and opted to refine the digital cover creation process, making it even more streamlined and powerful. The first version of the software saved me a lot of time and money, and I have zero doubt version 2 will continue to do so. Pixel Studio FX 2.0 will remain my go-to solution for anything and everything digital cover design and creation related.

P.S. Also, don't forget to check out my bonus package to give yourself that extra little edge.